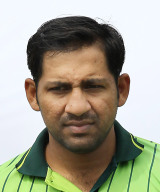 Sarfraz Ahmed is a right-handed wicket-keeper batsman who has played five ODIs for the Pakistan Under-19 team before being called up to captain the side for the U-19 World Cup in 2006 after scoring back-to-back half centuries in only his third and fourth match. With Pakistan winning the World Cup, Sarfraz was duly drafted into domestic cricket.
Although he only managed ten first-class matches in his first full season playing for Karachi and Sind – as well as nine 'A' matches and five Twenty20 games – an aggregate of 523 with the help of five half-centuries, with 28 dismissals behind the stumps to go with, did not go unnoticed as Sarfraz was named to face the touring Australia 'A' during the second half of 2007 as well as facing the South Africans in a tour match.
Safraz has had a terrific start to the 2007-08 season where he has racked up three fifties in the first five matches with 21 dismissals behind the stumps. He played the Hobart Test against Australia in 2010, and has also played ODIs intermittently for Pakistan.