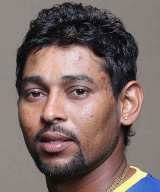 Tillakaratne Mudiyanselage Dilshan or popularly as Tillakaratne Dilshan, is a professional Sri Lankan cricketer. He is regarded as one of the most innovative batsmen of the modern game. He is an aggressive right-hand batsman who invented the scoop, which has come to be known as a dilscoop, that hits the ball behind the keeper. An all-rounder, he is also a capable off-break bowler, he is associated with Karachi Kings in PSL. He also was a test wicket-keeper.
Tillakaratne Dilshan is one of the most exciting batsmen in the game today. He is technically sound, but, much like Virender Sehwag, he uses the defensive option only as a last resort, after all the attacking alternatives have been explored. He loves to make room and thrash the ball through the off side, but the stroke that bears his signature more than any other is the one he developed for the 2009 ICC World Twenty20 – the eponymously named "Dilscoop" shot over his head, which confounded bowlers and experts alike.
In fact, 2009 was a watershed year in his career, and a huge factor was his move up the batting order to open the innings in all three forms of the game. It was a move that proved his making, as he exploited attacking fields and amassed huge scores in all formats: he scored 11 international hundreds in the year, and won the World Twenty20 Player of the Series prize.